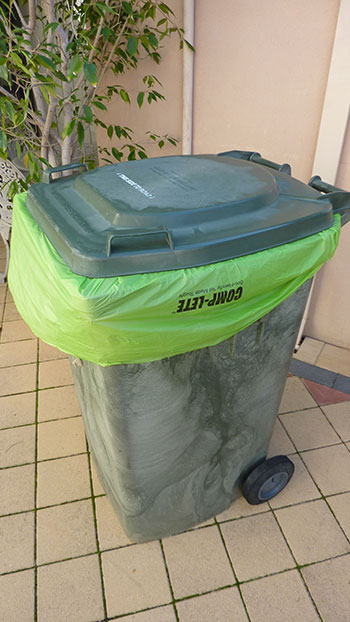 Can earthworms eat your Council bin liner bag?
The Comp-lete 'not plastic' bin liners have passed the worm test
No polyethylene is used in the production process.
Comp-lete Bin Liners are 100% Compostable
Comp-lete Bin Liners are naturally Biodegradable
Comp-lete Bin Liners allow waste to breath for compostiblity while stopping odours from escaping
Comp-lete Bin Liners do not require separate handling or separation
Comp-lete garbage bags are available in:
8 litre kitchen tidy bags
80 litre bin bags
120 litre bin bags
240 litre bin bags
Comp-lete is the honest alternative to plastic.
Contact us now and see how you can make a difference for a cleaner environment with the Natureworks Comp-lete
Facts and Features
Superior puncture, tear & heat resistance
Excellent strength for greater load capacity at lower gauges
Ideal for collection of pre & post consumer food waste
Engineered to control odor & dissipate moisture
Extra strong leak-proof seals
Superior performance even with hot foods
12 to 24  month shelf life when stored in a dry location out of direct sunlight
Totally degrades in 28 to 45 days in commercial compost
100% biodegradable and compostable
Unlike conventional plastic bags that will last centuries in landfills, Comp-Lete trash can liners will completely disintegrate within 12 to 24 months. These organic waste disposal bags are biodegradable and 100% compostable in a municipal or commercial compost environment.
Plastic Bag Information and Facts