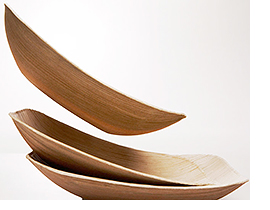 Founded on the belief that it's possible to combine high design with the highest standards of environmental responsibility, VerTerra™ now redefines what stylish, sustainable and compostable disposable dinnerware can be. Thoughtfully and beautifully designed, VerTerra™ offers a chic touch of nature to each table, minus any plastics, glues, lacquers, veneers or toxins that can leach into foods.
A Simple and Transparent Process
VerTerra™ production starts with collecting fallen leaves from plantations (no trees are ever cut down to make this dinnerware) precluding them from being burned and polluting the air. The leaves are then brought to the factory, high-pressure sprayed with water, steamed and UV sterilized. Over 80% of the water used is recaptured and reused, and the entire manufacturing process uses just 10% of the energy used in recycling.
Facts, Features and Why You'll Love VerTerra™
Made from only fallen leaves and water
Non-toxic — no chemicals, plastics, glues, lacquers, or veneers
Durable yet lightweight
Can hold hot or cold foods and liquids
No heat transference
Maintains shape when in contact with hot substances
Microwave-safe up to 2 minutes on high
Oven-safe for up to 45 minutes at 350 degrees F (177'C) at least 6"(150mm) away from heat source
Refrigerator and freezer-safe
BPI and ASTM D6400 certifiied for compostability
Fully home compostable, naturally returning to earth in 2 months (using 90% less energy than recycling)
---
VerTerra™
VerTerra™ environmentally-friendly plates, bowls and serving trays are made only from two things: fallen leaves and water. Great for hot or cold foods, they're lightweight, durable and downright stylish. VerTerra™ products are non-toxic, biodegradable, and fully compostable in any compost environment.
• Non-toxic with no bonding agents, lacquers or chemicals
• No heat transference, maintains shape when in contact with hot substances
• Microwave-safe and oven-safe
• BPI certified
• ASTM-D6400 and D-6868 certified compostable
• Suitable for home composting
VerTerra™ Catering Trays
Item # Description Case
568-04022 Leaf Tray (175 x 212mm) 100
568-04032 Leaf Tray (260 x 312mm) 25