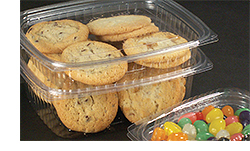 EcoServe | JustFresh™ | SeeShell™ | VersaPak®
Maximize deli and produce visibility with Wilkinson's dependable 2-piece deli packaging for salads and mixed items. Its sturdy, crystal clear construction includes an attractive square hinge design with a flat lid for convenient stacking.
Made from NaturesPLAstic® (Ingeo™ biopolymer), VersaPak® comes in an assortment of sizes suited to many cold and dry food applications.
---
VersaPak®
Maximize deli and produce visibility with crystal clear VersaPak® two-piece deli packaging. These high performance containers and lids for cold foods are made from Ingeo™ — a NatureWorks® biopolymer derived from renewable, plant-based resources, not petroleum. Containers and lids are are 100% biobased, biodegradable and compostable in a municipal or commercial compost facility.
• For cold food use only
• Flat, recessed lids for convenient stacking
• Durable and shatterproof
• Smooth rolled rims
• Resistant to flavor and odor transfer
• Produced from renewable plant-based resources
• Manufactured in the USA, using 68% less fossil fuels than traditional plastics
• ASTM D6400 certified compostable
VersaPak® Deli Containers with Lids
Item # Description Case
451-H58N 8-oz. (240ml)Deli Container with Flat Lid 250
451-H41N 8-oz. (240ml)Deli Container with Dome Lid 250
451-H59N 12-oz. (360ml)Deli Container with Flat Lid 250
451-H60N 16-oz. (480ml)Deli Container with Flat Lid 250
451-I19N 16-oz. (480ml)Shallow Deli Container with Flat Lid 250
451-H61N 24-oz. (720ml)Deli Container with Flat Lid 250
451-H62N 32-oz. (960ml)Deli Container with Flat Lid 250
451-G98N 32-oz. (960ml)Deli Container with Dome Lid 250
451-H80N 48-oz. (1440ml)Deli Container with Flat Lid 125
451-H84N 64-oz. (1920ml)Deli Container with Flat Lid 125