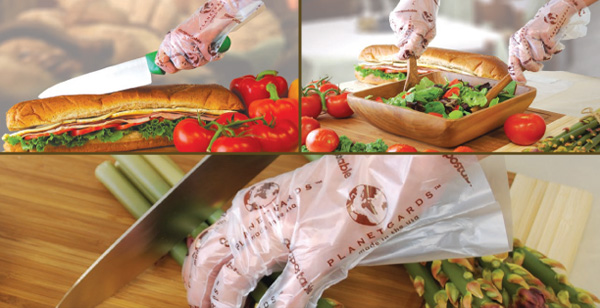 Introducing the first compostable glove
Planetgards™ compostable gloves are made in the USA by Handgards® — a market leader and innovator of new products and the only domestic producer of poly gloves.
Planetgards™ are made of PLA (polylactic acid) which is derived from corn after fermentation. Unlike regular plastic products made from oil, PLA bioplastic comes from renewable, plant-based resources. Planetgards™ gloves are ASTM D6400 certified compostable (in commercial composting facilities*) and are printed with bold, water-based inks to easily distinguish this feature.
---
Planetgards™
Protect hands with Planetgards™ Compostable Gloves by Handgards®, the sustainable alternative to petroleum-based foodservice gloves. Made from 100% renewable, heat-resistant bioplastic and manufactured in the U.S.A, these gloves are BPI certified and 100% compostable in a municipal or commercial composting environment.
• 100% biobased disposable gloves
• Use for foodservice and food handling applications
• Made from vegetable starch based, heat resistant bioplastic
• High clarity, low noise film
• Strong and flexible
• Printed with bold water-based inks to easily distinguish compostability
Planetgards™ Compostable Gloves
Item # Description Case
236-11231 Small Gloves – Bulk 250
236-11232 Medium Gloves – Bulk 250
236-11233 Large Gloves – Bulk 250
236-11234 Extra-Large Gloves – Bulk 250
236-11251 Small Gloves – Dispenser Box 360
236-11252 Medium Gloves – Dispenser Box 360
236-11253 Large Gloves – Dispenser Box 360
236-11254 Extra-Large Gloves – Dispenser Box 360