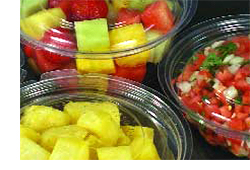 EcoServe | JustFresh™ | SeeShell™ | VersaPak®
JustFresh™ clear bowls and tubs show off the freshness of products inside, and utilize tamper-evident lids that seal in contents with no shrink banding required.
Made from NaturesPLAstic® (Ingeo™ biopolymer), these leak-resistant bowls and tubs are a popular choice for fresh fruits, vegetables and deli items and come in a variety of convenient sizes. They feature crystal clear construction and a juice reservoir in the bottom to keep produce fresher, longer. And Wilkinson's patented tamper-evident closure system comes with an air-tight triple lock to protect and seal in freshness.
---
JustFresh™
JustFresh™ bowls are great for cold foods like fresh fruits and deli items. A patented, tamper-evident closure system requires no shrink banding. Lids have a leak-resistant, air-tight triple lock that protects food and seals in freshness. Made from Natureworks® Ingeo™ —derived from renewable plant-based resources, not petroleum. Bowls and lids are 100% compostable in a municipal or commercial composting facility.
• Crystal clear construction for excellent food visibility
• Juice reservoir in bottom
• Durable, leak-resistant and shatterproof
• Resistant to flavor and odor transfer
• Manufactured in the USA, using 68% less fossil fuels than traditional plastics
• 100% biobased
• ASTM D6400 certified compostable
JustFresh™ Clear Bowls & Lids
Item # Description Case
451-L08N 8-oz. (240ml)Clear Bowl with Tamper-Evident Lid 250
451-L16N 16-oz. (480ml)Clear Bowl with Tamper-Evident Lid 250
451-L18N 18-oz. (540ml)Clear Bowl with Tamper-Evident Lid 100
451-L32N 32-oz. (960ml)Clear Bowl with Tamper-Evident Lid 100
451-L06N 32-oz. (960ml)Clear Bowl (no lid) 500