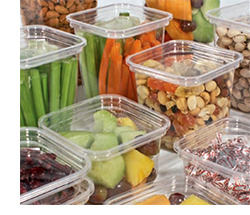 EcoServe | JustFresh™ | SeeShell™ | VersaPak®
These four sustainable brands come from Wilkinson Industries, Inc., of Fort Calhoun, Nebraska — a longtime manufacturer of distinctive, high quality packaging for the foodservice, restaurant, grocery and food processor industries. Wilkinson is committed to providing the best food packaging/disposables products on the market with unequalled commitment to the environment.
The product lines are all ASTM D6400 certified 100% compostable in a municipally or commercially managed composting facility.
EcoServe — Clearly Sustainable Solutions
EcoServe Deli containers are made of NaturesPLAstic® (Ingeo™ biopolymer) and are the ideal solution for cold and dry foods such as fresh-cut produce, deli foods, nuts, candies, granolas, and more.
Available in both square and round shapes in a variety of sizes, EcoServe deli containers have two lid choices: a tamper resistant lid and an inside fit lid. They fit all base sizes from 8 ounces (240ml) to 40 ounces (1200ml). And both lids keep food safe, secure and leak-resistant. No shrink band is needed with the tamper resistant lid, reducing material waste, labor and energy cost.
---
EcoServe
EcoServe's stackable deli containers and leak-resistant recessed lids are made from Ingeo™ — a NatureWorks® biopolymer derived from renewable, plant-based resources, not petroleum. Crystal clear for maximum food visibility, they are ideal for a variety of cold foods including fresh fruit deli items, granolas, nuts, and candies. The tamper resistant lid features a patented closure system that requires no shrink banding and provides a leak-resistant, air-tight triple lock that protects food and seals in freshness. Lids fit all sizes of EcoServe container bases, from 8 oz.(240ml) to 32 oz(960ml). Both containers and lids are 100% biobased, biodegradable and compostable in a municipal or commercial compost facility.
• For cold food use only
• Resistant to flavor and odor transfer
• Produced from renewable plant-based resources
• Manufactured in the USA, using 68% less fossil fuels than traditional plastics
• ASTM D6400 certified 100% compostable
• Matching recessed lids available separately
EcoServe Round Deli Containers
Item # Description Case
156-10208 8-oz.(240ml) Deli Container 500
156-10212 12-oz. (360ml)Deli Container 500
156-10216 16-oz. (480ml)Deli Container 500
156-10232 32-oz. (960ml)Deli Container 500
EcoServe Square Deli Containers
Item # Description Case
156-20308 8-oz (240ml)Deli Container 500
156-20312 12-oz. (360ml)Deli Container 500
156-20316 16-oz (480ml)Deli Container 500
156-20324 24-oz (720ml)Deli Container 500
156-20332 32-oz (960ml)Deli Container 500
EcoServe Deli Container Lids
Item # Description Case
156-10510 Recessed Lid for Round Deli Container (all sizes) 500
156-20510 Recessed Lid for Square Deli Container (all sizes) 1000
156-20502 Tamper Resistant Lid for Square Deli Container (all sizes) 1000