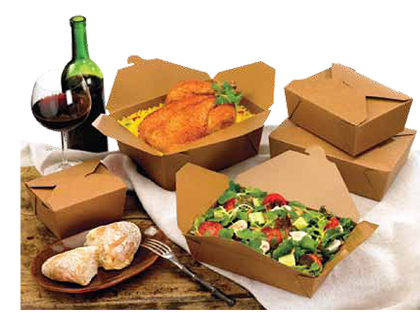 Bio-Plus Earth® food containers are made by Fold-Pak, a manufacturer of high quality take-out packaging for the foodservice and grocery industry.
Made from 100% recycled paper using 35% or more post-consumer recycled paper, they give a second life to the paper from which they are made.
The Bio-Plus Earth® product line is endorsed by the Green Restaurant Association (U.S.A), whose logo is printed on the bottom of every container. This tells customers your business is environmentally responsible and concerned about helping preserve the earth for future generations.
Bio-Plus Earth® — a better choice
Bio-Plus Earth® food containers replace traditional foam, plastic, and aluminum packaging commonly used in foodservice today — and they look and perform better.
Chlorine-free, leak-resistant and stackable, these natural brown kraft food containers can hold hot, cold, wet, or dry foods. From full course entrees and salads to box lunches, Bio-Plus Earth® products keep fresh foods fresh and hot foods hot.
The poly-coated interior retains heat and vents steam effectively, and the entire container is heat lamp-resistant and microwaveable.
The one piece design requires no assembly and eliminates container and lid inventory issues. Easy to use for customers — the container flaps open wide allowing free access to food.
Printable
Bio-Plus Earth® containers can be custom printed in up to 3 colors, using water based FDA prescribed inks that are safe for the environment.
---
Product Specifications and Ordering
Bio-Plus Earth®
Bio-Plus Earth® natural, unbleached food containers are a biobased alternative to traditional styrofoam, plastic and aluminum packaging. Made from 100% recycled paper with 35% or more post-consumer, these chlorine-free food boxes work for hot, cold, wet or dry foods. Perfect for full course entrees, salads and box lunches and easy-to-use, they are also 100% compostable in a municipal or commercial composting facility.
CP Custom Printing Available
Attractive, natural color
Leak and cut-resistant
Microwave safe and safe under heat lamps
One-piece design requires no assembly
Flaps open wide allowing free access to food
Retains heat and vents steam effectively
Stackable design
Non-toxic, 1% poly-coated interior
BioPlus Earth® Natural Unbleached Paper Food Boxes
| | | |
| --- | --- | --- |
| Item # | Description | Case |
| 330-03001 | #1 Food Box (125 x 112 x 62mm) | 450 |
| 330-03002 | #2 Food Box (212 x 156 x 47mm) | 200 |
| 330-03003 | #3 Food Box (212 x 156 x 62mm) | 200 |
| 330-03004 | #4 Food Box (212 x 156 x 87mm) | 160 |
| 330-03008 | #8 Food Box (150 x 120 x 62mm) | 300 |